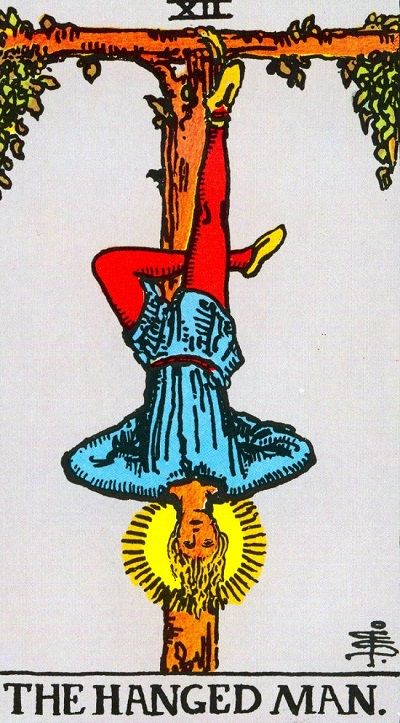 Description
The Hanged Man is the 12th Major Arcana card among all the other 22 Major Arcana cards. On this card, a man is hanging upside down by his foot from a block of T-shaped living wood, viewing the world from a different angle. It appears that the man is in this position by his own will which is evident from the calmness on his face. His right foot is tied with the wooden block while his left foot is free. He has bent his left leg from the knee which is tucked behind his right leg. His arms are bent behind his back. He has a halo behind his head, denoting his intuition, understanding, judgement, and enlightenment. He wears red-coloured pants, symbolizing power, determination, passion, desire, and courage. On the top, he wears a loose blue-coloured vest symbolizing his wisdom, patience, faith, hope, and heaven. The yellow colour of his shoes and hairs symbolizes his intellectual abilities and potentials.
Keywords
General Meaning
The Hanged Man card suggests keeping some patience as there might be the chances that some of your important projects or work may stop unexpectedly. Stop forcing the things as all work will be done at the right movement. This card advises you to welcome the pauses by the universe as everything is happening for some good reason. It also advises you to take a break from your daily routine and connect to the new way of thinking and seeing. This universe is allowing you to see the new opportunities. Don't force things on you. Whatever is happening, accept it and flow with life.
Upright Position
If 'The Hanged Man' appears in the upright position in your spread, it has several meanings depending upon its position with other cards in your spread. Generally, this card suggests keeping some patience as everything will happen on the correct times. Suddenly your certain projects may stop unexpectedly due to the universal forces. In such a situation, this card advises you to welcome the pauses with open arms as a certain course action will be cleared at the right time. This card also advises taking a break from the monotonous life and get connected to the new way of thinking and seeing the things. The universe is helping you to see the new perspectives in life. Instead of forcing things, allow the opportunities to flow smoothly to you.
This card also advises you to eliminate the old patterns which are no longer serving you. Keep patience as new possibilities will be coming your way. Sometimes, this card also shows that you are being stuck or trapped between the choices. You are under the dilemma and unable to decide to choose the path. Some unexpected things are happening which are affecting you in all the ways. Whatever the situation is, accept it as certain things will be cleared at the right time.
Reversed Position 
This card in the reversed position has several meanings depending upon its position with other cards in the spread. Generally, in the reversed position, it signifies that your body and soul might be asking you to take a break from your routine but you are paying attention towards the signals. This card advises you to take a rest from your daily tasks to develop a new perspective for yourself. It also signifies that you are being stuck in some unexpected situations and failed to see the directions. The best choice you can make is to take a pause and consider every fact before taking a final decision. It is better if you let go your certain attachments which are acting as an obstacle in your path. If you have already taken a pause from your life than the appearance of this card is a good omen which advises you to sta