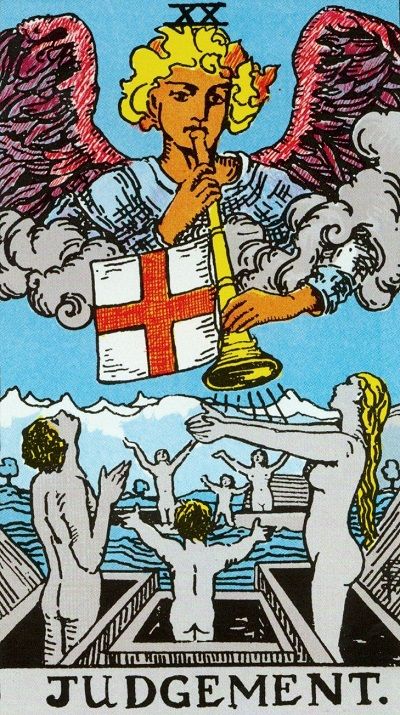 Description
Judgement is the 20th Major Arcana card among all the other 22 Major Arcana cards. On this card, there is a large image of Archangel Gabriel (Messenger of God) blowing his trumpet to call the people for the judgement. In the foreground, a naked man, woman, and children are rising from their coffins in response to the call from the angel. They have opened their arms and looking up towards the angel to hear the judgement regarding their after-death journey. There will be a judgement based on their karmas and deeds, then accordingly they will send to heaven or hell. In the background, there is an extensive mountain range with massive tidal waves denoting that the judgement is unavoidable.
Keywords
Success and Transformation
General Meaning
In a general way, this card advises you to eliminate or go off the old patterns or things which are no longer serving you. It is advisable to step into the new version of yourself and start seeing the things with the new perspective. Try to get connected to your spiritual path and inner-strength to find the answers to the mysteries of your life. If you have been working hard and honest in your dealings, your hard work will be rewarded soon. If you have been dishonest, then be ready to face your karmas. This card advises you to amend your misdeeds before its too late.
Upright Position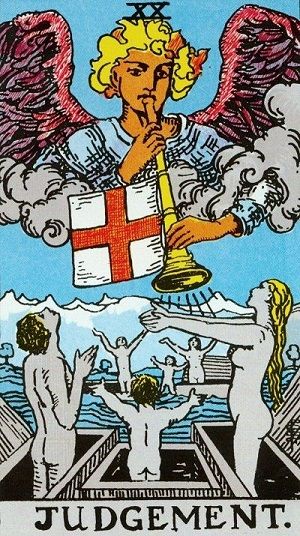 In the upright position, this card denotes the new beginnings. You have to eliminate the old patterns to make room for the new ones. This will be a complete transformation process which will help you to grow well in life. You will be able to find the new opportunities which will help you to taste success. Make the use of your logical and intellectual thinking to find the correct path which will prove to be beneficial for you. Try to get connect with your intuitive powers too.
This card also advises to you keep a check on your karmas. If you have been honest in your work, then soon you will be rewarded. If not, then this card asks you to get ready to face the results of your bad deeds. Try to accept your mistakes instead of imposing it on others. Learns from your past experiences and life lessons to find the answers to your several questions. You can also take the advice from an experienced person in certain situations.
This card also signifies that you are extremely judging others. Instead of passing any particular judgement regarding anyone, focus on your things.
It also denotes that your certain legal matters will be resolved soon and you will get judged fairly.
Reversed Position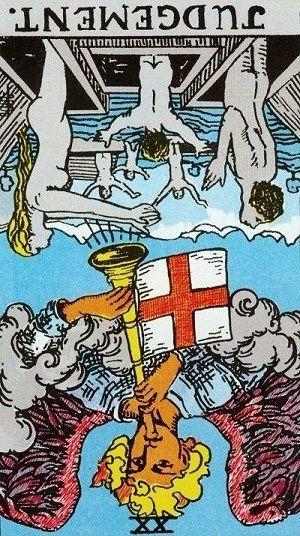 If this card appears in the reversed position, it denotes that the universe is providing you with several signals but you are not paying attention to anyone of them. You are living in the world of illusions and failed to accept the realities. The period has arrived where the universe is signalling you to make certain changes in your life to prosper well in life. But, you are imposing the negative messages upon you and failed to understand the mysteries of the divine power. Try to get connect with your spiritual side and meditate to find the answers for many questions.
This card also signifies the period of reflection and self-evaluation which may help you to know your certain mistakes. This will also help you to face your karmic lessons.
If you are confused regarding anything, this card in the reversed position advises you to stop doubting your capabilities and start focusing on your real worth. This card in the reversed position also shows that you might be involved in certain gossips which may put you in troubles. Try to avoid it as much as possi