There are nine major astronomical bodies in the texts of India. These nine bodies are called "Navgraha" and there are temples dedicated to them, solely. People take around them to take their blessings. One of these Navgrahas is Rahu. In English, Rahu and Ketu are known as the North and South lunar nodes, respectively.
Beej Mantra has a power of its own. When pronounced correctly and recited for 108 times in a row every single day, it has the power that you can never imagine until you experience it on your own.
Power:
If you have committed major or minor sins in the past of this birth or even your past life, you can have them cleansed by chanting Rahu Beej Mantra with a clean heart. Your intention should be to cleanse your soul and Rahu will bless you with the same.
Rahu Mantra is advised to be chanted by those who are unable to get married. It eradicates all the troubles that arise in the path of your marriage.
Rahu Mantra is chanted for the sake of gaining social status and reputation. Even if your status has been harmed in some way, it can be regained within a few days of meditating on Rahu and chanting the Beej Mantra.
Chanting Rahu Mantra on a regular basis can open your psychic Chakra (Third Eye) and also protect you from psychic attacks.
If you think you, or any of your loved ones, are a victim of black magic, Rahu Beej Mantra can help in keeping your shielded.
There are a lot of politicians who use Rahu Beej Mantra to gain the position that they have been visualizing in their minds. It helps them keep their focus on one thing at a time and activate the Law of Attraction in their favor.
Benefits:
The most important advantage of chanting Rahu Beej Mantra is that you can protect yourself, and anyone, from all kinds of evil spirits and negative energies. It makes your aura stronger, as it connects you to the energy in the Universe.
Rahu Beej Mantra can fill you with beautiful powers. It can bless you in ways you don't even have an idea about.
Chanting Rahu Beej Mantras can energize you.
All kinds of material gains can be achieved with the help of Rahu Beej Mantra.
Mantra:
Om Bhraam Bhreem Bhraum Saanha Raahve Namah ||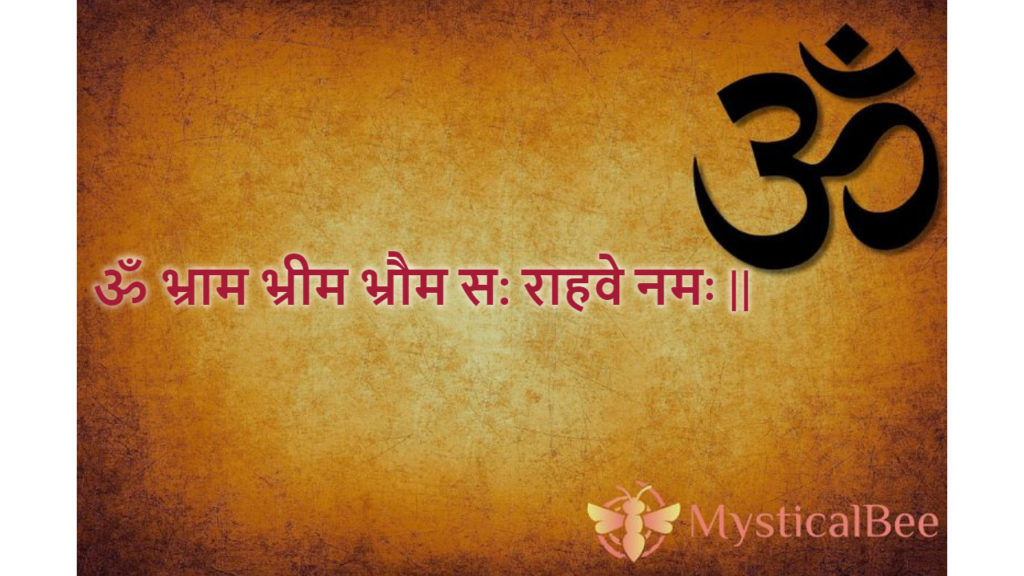 Things to Remember:
You have to be as dedicated as you can be in chanting Rahu Beej Mantra.
There has to be immense determination in chanting the Mantra; you need to do it every day for at least 21 days. Chanting Rahu Beej Mantra 108 times every day is needed to achieve your desires.
If you can meditate for at least 15 minutes before beginning with the chanting of Rahu Beej Mantra, do it. It would give you more power.