If nothing seems to be going right in your life, maybe it is time for you to bring Navgraha Stotram chanting into your daily routine. Navgraha means "Nine Planets" and, if you are astrologically at least a little sound, you may have an idea about how each planet in the universe affects and impacts our life. If you want to get rid of a specific problem, or make your life better in general, Navgraha Stotram can influence these nine planets and ensure to bring positive changes into your life.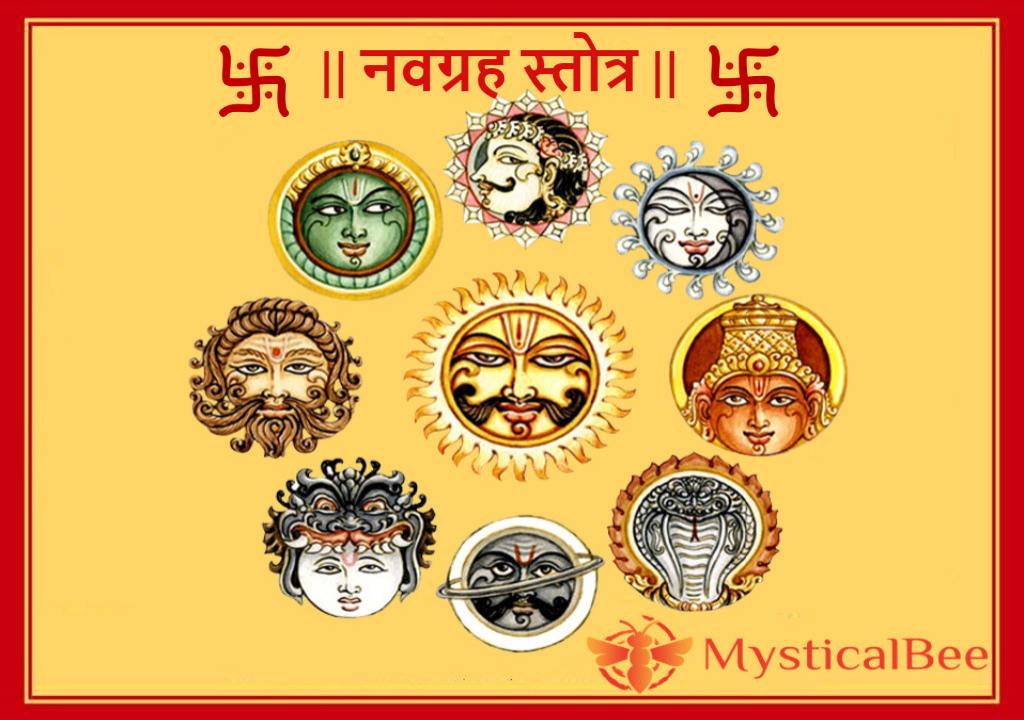 About:
The Stotra has been written in Sanskrit by Shri Vyas Rushi. It contains the power of nine mantras, dedicated to each of the nine planets. When you recite this mantra, you tap into the frequency of your desire and manifest your dreams as if you are living them for real. Gradually, you attain your goals. 
Benefits:
All the nightmares that have been scaring your soul and scarring your mind can be gotten rid of when this mantra is recited every single day (for a specific period of time, which we are going to mention in the later part of this article).
The unnecessary thoughts that have been trying to fill your mind with are taken care of by the planets that you recite the mantra for.
The wealth you have been imagining can be achieved with the help of this mantra.
Even the most chronic health problems are kicked off when you recite this mantra for as long as you are told to do so.
If you have been going through terrible effects of certain planets in your chart, it can easily be taken care of with the help of determined chanting of this mantra.
Every single planet can be influenced by reciting this mantra with dedication and a pure intention.
Mantra:
Navagraha Stotra
Shree GaNeshaayanama:
|| atha navagraha stotram ||
dhyaana shlokam
adityaaya cha somaaya mangalaaya budhaaya cha |
guru shukra shanibhyashcha raahave ketave nama: ||
Ravi
japaakusuma sankaasham kaashyapeyam mahaadyutim |
tamoriyam sarva paapaghnam praNatosmi divaakaram ||1||
Chandra
dadhishankha tushaarabham ksheerodaarNava sambhavam |
namaami shashinam somam shambhormukuTa bhooshaNam ||2||
Kuja
dharaNee garbha sambhootam vidyutkaanti samaprabham |
kumaaram shakti hastam tam mangalam praNamaamyaham ||3||
Budha
priyangu kalikaashyaamam roopeNa pratimam budham |
soumyam soumya guNopetaam tam budham praNamaamyaham ||4||
Guru
devaanaam cha rushiNaam cha gurum kaanchana sannibham |
buddhibhootam trilokesham tam namaami bruhaspatim ||5||
Shukra
himakunda mruNaalaabhaam daityaanaam paramam gurum |
sarvashaastra pravaktaaram bhaargavam praNamaamyaham ||6||
Shani
neelaanjana samaabhaasam raviputram yamaagrajam |
chaayaa maartanDa sambhootam tam namaami shanaishcharam ||7||
Rahu
ardhakaaryam mahaaveeryam chandraaditya vimardanam |
simhikaa garbha sambhootam tam raahum praNamaamyaham ||8||
Ketu
palaasha pushpa sankaasham taarakaagraha mastakam
roudram roudraatmakam ghoram tam ketum praNamaamyaham ||9||
phalashruti:
iti vyaasa mukhodgeetam ya: paThet susamaahita: |
divaa vaa yadi vaa ratrou vighna shaantirbhavishyati ||10||
nara naari nrupaaNaam cha bhavet du:svapnanaashanam |
aishvaryamatulam teshaam Arogyam pushTivardhanam ||11||
grahanakshatajaa: peeDaa staskaraagni samudhbhavaa |
taa: sarvaa: prashamam vyaaso broote na: samshaya: ||12||
|| iti shree vyaasa virachita navagraha stotram sampoorNam ||
Mantra in Hindi:
II नवग्रह स्तोत्र II
अथ नवग्रह स्तोत्र II
श्री गणेशाय नमः II
जपाकुसुम संकाशं काश्यपेयं महदद्युतिम् I
तमोरिंसर्वपापघ्�