The word strength means the capacity of a person or an object to withstand the great forces and pressure.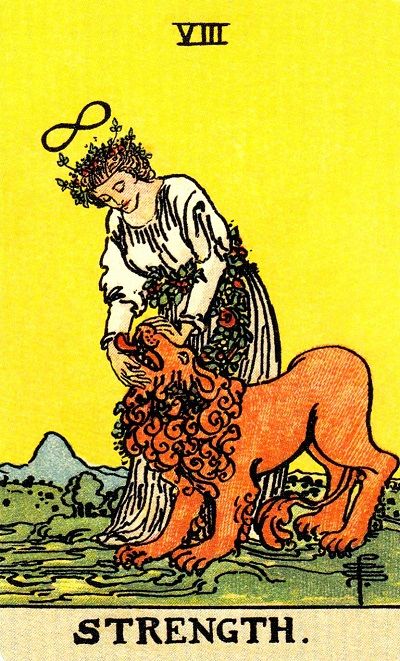 Description
Strength is the 8th Major Arcana Card among all the 22 Major Arcana Cards. On this card, a woman is seen caressing a fully grown lion, with her left hand on his head and right hand holding his jaw, she has full control over a very strong and powerful lion. With dominance, love, passion, and calm nature, the woman is fully controlling the lion. Here, the lion is the symbol of raw passions and desires and the woman is shown as the symbol of calmness, discipline, and patience. It represents the use of inner strength, calmness, intellectual powers, and logical thinking during the time of bad situations. The woman is wearing a white-coloured robe, which symbolizes purity and calmness. On her head, there is a symbol of infinity, showing her infinite knowledge, potential, and wisdom. In the background, it appears to be a bright sunny day, which symbolizes hope, optimism, good times, creativity, cheerfulness, and high energies. The mountains are blue and the grass is green which symbolizes stability.
Keywords
General Meaning
This card suggests that instead of using physical strength, the person should use his inner strength to overcome the obstacles of life. There is no need for worrying about things as anxiety, impatience, frustration, nervousness will only lead to bad results. To be courageous and daring, you need to overcome your fears. This wouldn't be done in a single day, but the continuous efforts are required to master the emotions, inner-strength, and patience. Once you will learn all this, you will see new confidence in yourself. It also represents the way of controlling someone not by domination but with the method of influencing smartly and calmly.
Upright Position
If the Strength card appears in the upright position in your spread, it suggests that you have the abilities to be successful, the only thing you need is to master your inner-strength, calmness, and patience. There is no need for worrying about things as it will only lead to failure. Use your inner-powers, intellectual abilities, logical thinking, and infinite potentials to withstand the difficult situations of life. It also suggests that you can easily influence others as per your wishes, and this quality of yours is invisible to others. It's high time to use this hidden powerful tool not to dominate or force anyone, but smartly use it to get your things done. It also suggests a loyal friend or partner who will be going to your great support during the difficult phases of life.
Reversed Position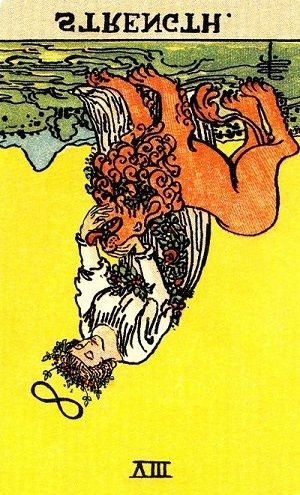 If the Strength card appears in the reversed position in your spread it suggests that you have completely lost your inner-strength and self-confidence. You have made your fears and anxieties to completely overcome you and have lost all the directions in your life. You ain't able to understand and recognize your abilities. You have become depressed, powerless, negative, vulnerable, and lost all self-esteem. You have people around you who make you feel stressed and degrade you. Try to cut from those and spend time with the ones who appreciate you in every aspect.
Strength in Past Spread
Your inner-strength and potentials have helped you to make things in your favour. With your smart analytical abilities, you have found many new directions in your life.
Strength in Present Spread  
Don't doubt your capabilities, whatever decision you have taken in your life currently, will prove to be very positive for you. It's high time to use your inner-strength and hidden potentials to open the doors of new opportunities in your life.
Strength in Future Spread
In the future, you may get the number of opportunities where you will have to use your abilities to take the various decisions in your life. There is no need to worry unnecessarily as the things will be in your favour.
Strength in Love Spread
If you are single, the appearance of the Strength card in your spread suggests that soon you will be going to meet someone who will be full of confidence, ambitious, strong, courageous, strong, and dominating. That person will be very smart to be easily convinced by anyone. You have to gently persuade that person, instead of dominating them.
If you are committed, this card indicates a strong bond between the couple. Even after facing a lot of troubles in your relationship, you have successfully overcome every obstacle with your unbreakable bond. It also represents a compatible couple, where one partner is calm, composed, intelligent, and smart, while the other is full of confidence, ambitions, and has strength and powers.
Strength in Career Spread
In the career spread, the Strength card indicates that you will be going to have a bright future. You will succeed in whatever decision you take in your career. Don't lose your confidence and hope, try to be positive as the things will be in your favour. Life may open new doors for the opportunities, so don't hesitate to look for them. If you are looking for a job, this card indicates a favourable time to explore the options as you will going to find a suitable job for yourself.
Strength in Finance Spread
In terms of finances, this card suggests not to take any decision in a hurry. Before investing your money, always go through the positive and negative aspects, as the decisions taken in a rush will lead to the loss. Instead of spending your money recklessly on unnecessary things, try to save it for the future.
Strength in Heath Spread
If you have recently recovered from the illness, this card suggests that now is a good time to make positive changes to your lifestyle. Your health will improve in the coming days. Don't stress or panic yourself and try to meditate and keep yourself calm and composed.
Strength in Family Spread
It indicates a strong bond between the members of the family. Try to keep a selfless love for each member of the family. It also indicates a short trip to some beautiful place. Always support, love, respect, make communication, and keep the peace within the members of the family. It also denotes that someone has a female dominating family.
Strength in Yes or No Spread
Since the Strength card is positive, it makes you believe your inner-strength, self-confidence, courage, patience, and self-control. It suggests that the person should be more optimistic in life, so the answer to the question is 'Yes'.
Other Facts 
Astrology/Zodiac Sign: Leo
Period: July 23 to August 22