Guruvaar means Thursday. Brihaspati is said to be the God of this day. In English, Brihaspati is the Jupiter planet. It is said to influence good fortune in the life of an individual. It brings popularity, respect, wisdom, spiritual benefits, morality and wealth to the life of an individual.
Out of all the fasts you keep as a Hindu, the Brihaspati fast is said to be the easiest. You can eat meal one time (must include anything in yellow color), wear yellow clothes and offer yellow flowers as well as sweets to this planet, since he is very fond of sweets. Since yellow is his favorite color, he blesses you with the power that you need.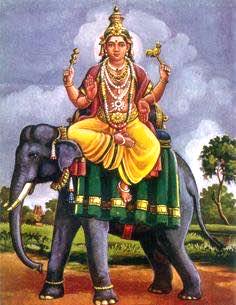 Brihaspati is seen sitting on a lotus. Eight beautiful yellow horses are shown pulling his chariot.
If you are unable to do any other fasts, fasting for 16 Thursdays with limited restrictions can be quite a beneficial thing for you.
However, there are times when you are not allowed to fast, or you simply don't believe in fasting to achieve what you want. This is when you can count upon Mantras in your life.
Benefits:
It is said that the Brihaspati Beej Mantra provides you with all the knowledge that you need in your life. If you have been stuck somewhere spiritually, this is the Mantra that you need to chant for your betterment.
Brihaspati is said to be the teacher of all the Gods in Hindu Dharma. Since he is known for his powerful justice capabilities, if you have been through a difficult situation in your life, you can chant his Mantra to get the justice that you want.
There is no planet, or lord, that hates Jupiter, or Brihaspati.
Those who procrastinate things a lot can achieve ultimate benefits by chanting Brihaspati Mantra.
Brihaspati Mantra is chanted for good manners as well.
If you lack patience, there is no other Mantra that can give you the exact thing you are looking for, except for Brihaspati Mantra. It provides you with all the patience you need.
A lot of people chant Brihaspati Mantra to calm the negative effects of this planet in the horoscope. If you are being influenced by this planet in a negative manner, your astrologer suggests you to chant this Mantra.
Mantra:
Om Graam Greem Graum Sah: Gurve Namah:

ॐ ग्रां ग्रीं ग्रौं सः गुरूवे नमः ॥
Procedure:
Step 1: Begin chanting this Mantra on a Thursday.
Step 2: Wear yellow clothes.
Step 3: Offer yellow flowers to Brihaspati planet.
Step 4: Take your Jaap Maala and chant the Mantra for 108 times.
Step 5: Repeat for 11 days.