Prophet Muhammad
Prophethood is a crucial principle in Islam. It is based on the notion that Allah has sent a sequence of prophets to guide humanity in the right direction.
According to Islam, Allah wants to help people live respectable lives, so he teaches them how to do so. Muslims believe that prophets are conduits for Allah's revelations. The prophets are not revered because Allah is the sole true God. Rather, they are held highly.
Muhammad took birth in the city of Mecca. The Prophet Muhammad became Allah's messenger after his first experience of revelation in the year 610. Muhammad had gone to the mountains near Mecca during Ramadan and meditated in a cave when the Angel Jibril appeared. Muhammad was forty years old and couldn't read at the time, but Jibril told him to recite three times.
Muslims believe Allah chose Muhammad as his Prophet because he was a kind and wise man who genuinely cared about his people.
Allah continued to deliver his message to the Prophet for the next 23 years. His close colleagues and disciples wrote down the revealed teachings of the Prophet Muhammad. According to Muslim tradition, Allah's final words to Muhammad were: This day, I have finalized their religion for themselves, for which I have completed all my favor upon you, and selected Islam as your faith. Muhammad is the final Prophet sent by God. He is also regarded as the Seal of the Prophets. This indicates that the Quran is the final revelation from God. Because the Prophet Muhammad is so significant to Muslims, they strive to live in his footsteps, and the Hadith and Sunnah are essential sources of authority for Muslims to guide their lives.
Five Pillars of Islam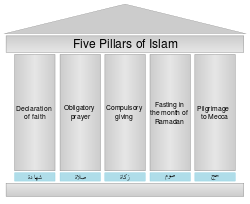 1) Faith: Islam's core doctrine is that "there is no god but God, and Muhammad is God's Messenger." This Arabic phrase frequently appears in architecture and a variety of things, including the Qur'an, Islam's sacred book of divine revelations. By uttering this phrase with conviction, one becomes a Muslim.
2) Prayer: Muslims often pray five times a day, in the morning, noon, mid-afternoon, sunset, and after dark, in the direction of Mecca. The first chapter of the Quran (sura) is recited during prayer, which is sometimes done on a small rug or mat designated for this purpose. Muslims can pray individually or in groups at a mosque led by an imam (prayer leader). Men gather at the mosque for noonday prayer on Fridays; women are welcome but not required to attend. Following the prayer, the imam will always pray and speak about such a religious subject before giving the lecture-based upon a Quranic chapter.
3) Alms: Islamic law requires Muslims to give a certain percentage of their wealth to people in their society who are in need. As a ministerial responsibility and to protect the benefits of charity, many kings and wealthy Muslims build mosques, drinking fountains, hospitals, schools, and other institutions.
4) Fasting: During Ramadan, the ninth month of the Islamic calendar, all healthy adult Muslims are expected to restrict from eating anything and drinking anything during the daylight hours. They renew their appreciation and knowledge of all that God has provided in their lives, especially the Quran, which was revealed for the first time this month. During Ramadan, they share the poor's hunger and thirst as a reminder of their religious commitment to help those who are less fortunate.
5) Pilgrimage: Every Muslim must pay at least one visit to M