Just like people worship and praise cupid in the western countries to bring love, sex and pleasure into their lives, we have Kamdev here. However, there are differences between these two characters. The major difference is that Kamdev is a God of sexual pleasures, passion and love; on the other hand, cupid is an angel, responsible to make people fall in love.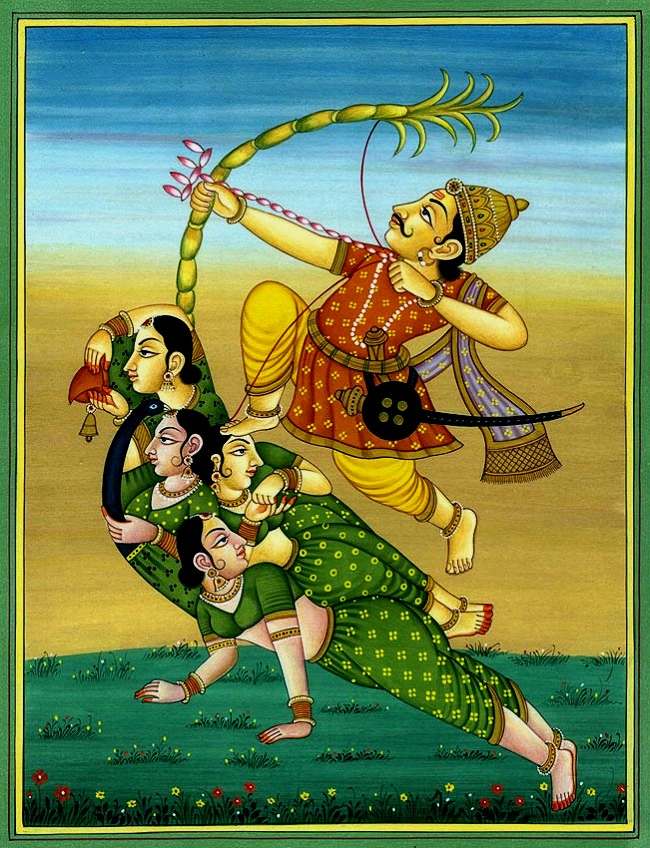 The most powerful thing about Kamdev is that you can invoke him into your life and make someone fall in love with you. However, before letting you know about the power, benefits, Mantra and procedure of chanting the Mantra, we would like you let you know a couple of things.
Things to Remember:
Before you start imagining someone and use the Mantra of Kamdev to attract them into your life, ensure to be sure about this person. The Mantra can attract this person to you, but not change them. If they are possessive, obsessive, destruction, dominating and so on, you have to bear the consequences of attracting them into your life. If you are sure they are an amazing person, you can use the Kamdev Mantra to attract them to you. Kamdev takes the responsibility to bring a person into your life, not change their nature.
You have to be sure you are in love with this specific person and they are not just another crush in your life. Use the Kamdev Mantra only if you believe you are truly in love with this person. If you are unsure, wait until you are sure and then begin with the chanting of the Mantra.
You have to imagine the person while chanting the Mantra for as long as you do it. Chanting Mantras boost the manifestation process and thus, visualization is a very important part.
When you begin chanting, from the very first day itself, believe that you have already gotten this person into your life. Breathe as if you are breathing their scent and let go as if with every single exhale, they are coming closer to you and inhale them again. Keep a positive mindset the entire day. Using the rules of Law of Attraction while chanting the Mantra, and during the entire process of bringing a specific person into your life, truly helps.
The progress takes some time and you must not lose faith in the testing phase.
Never use Kamdev Vashikaran Mantra on someone who is married and is happily settled. Breaking another person's happy house is the biggest sin one can ever do in their life.
Do not use Kamdev Vashikaran Mantra for more than a single person at a single time. Never use any Mantra to make more choices available for yourself. Thus, we mentioned earlier to be very sure about who you want to chant the Mantra for.
Never make someone fall in love with you only to feed the demons of your egos. Otherwise, every single Mantra has the power to destroy you as well.
Power:
The Kamdev Mantra has the power to develop love in the heart of the person you love, for you. If you love someone and they don't love you back, yet, chanting the Kamdev Mantra can invoke love in their heart for you.
The Kamdev Vashikaran Mantra can be used to bring a new love into your life. When you chant the Mantra, imagine the kind of person you want to date, or get married to or be in love with. Once you start letting your Higher Self know who exactly you are looking for, the Mantra will bring the exact same person into your life. It is like manifesting a specific person.
The Kamdev Mantra can invoke love in the heart of your partner as well. If you see your partner's love diminishing towards you, start chanting Kamdev Vashikaran Mantra and you'd see positive results in a couple of days itself.
Benefits:
You can invoke self-love into your heart because there is a positive feeling that you receive when you chant Kamdev Vashikaran Mantra every single day, or until a specific period of time. Self-love is the first step towards any progress in your love life because then, you do not compromise on the kind of partner you are looking for, since you are highly confident.
You get that person in your life who you love the most. This means you can now touch their skin, feel them around you and be with them.
Even if you think this specific person is unapproachable for you, Kamdev Vashikaran Mantra can bring this person to you. However, you have to cherish their presence in your life, later, and ensure to keep them happy after winning their heart.
Mantra:
Om Kaamdevaay Vidmahe, Rati Priyaaye Dheemahi, Tanno Anang Prachodayaat ||
Procedure:
Step 1: Sit in a lotus position and breathe in deeply and exhale completely. Repeat the breathing pattern for about one complete minute so that your head feels lighter and you are in a state to focus on who you desire in your life.
Step 2: Now take your Jaap Maala and do one round of the Mantra (108 times) in a row.
Step 3: While chanting, think of the one you love and visualize them loving you back.
Step 4: After the Mantra chanting is over, sit in the same energy for a couple of minutes as you enjoy the sensations and let the person flow into your life.
Step 5: Repeat the above steps for 21 days.